Your blog has a blog posts template that sets the structure for all blog posts, and a listing page template that sets the style for your blog's homepage. By choosing your theme template for your blog, all your colors, fonts, and styles will be consistent on your website.
To choose a theme template for your blog templates:
In your HubSpot account, click the settings icon settings in the main navigation bar.
In the left sidebar menu, navigate to Website > Blog.
Click the Templates tab.
Below the Blog posts heading, click the Template for blog posts dropdown menu and select the Blog post template.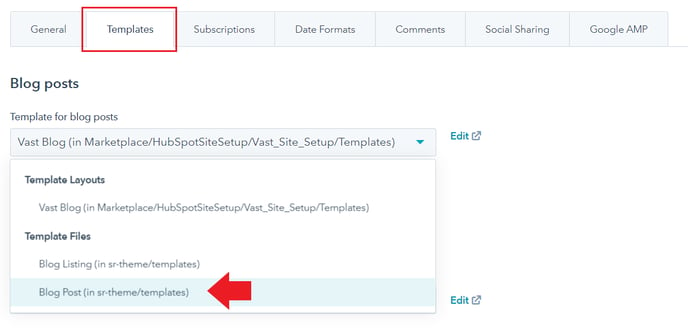 To apply your theme styles to your blog listing page, select the Use a different template for the blog listing page than the blog post template checkbox.
Then click the Template for listing pages dropdown menu and select the corresponding Blog listing template.